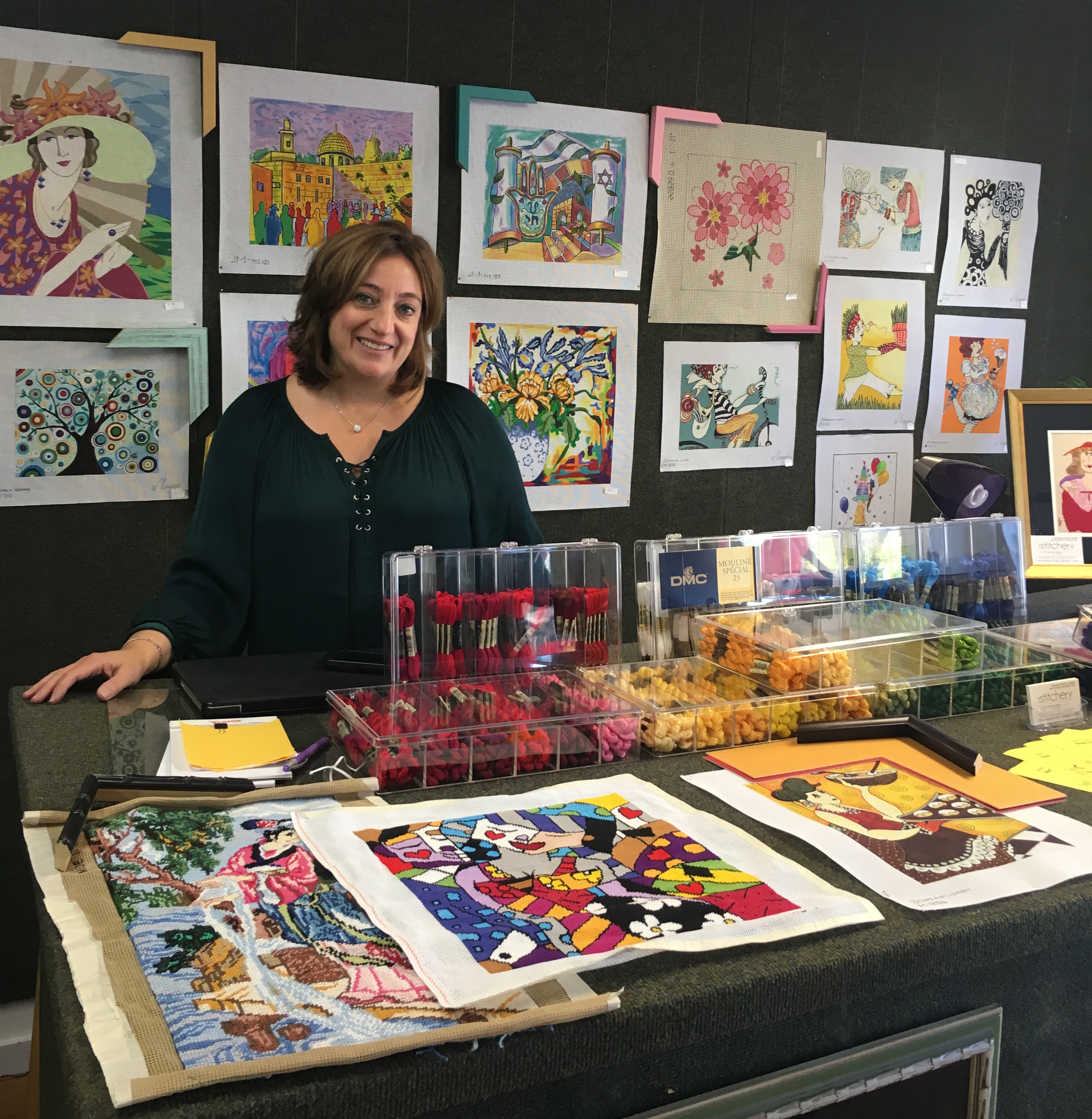 The Stitchery LLC has reinvented the art of needlepointing.  We offer a wide variety of whimsical and traditional artwork, each hand-painted onto needlepoint canvases by artists throughout the United States. The Stitchery carries designs in both 13mesh and 18mesh canvas along with a wide array of beautiful color threads.
Our customers enjoy a warm, friendly atmosphere where they can take their time in selecting projects, colors and finishing techniques.  Conveniently located in The Artisan Framer, those customers wishing to have their masterpieces displayed on walls have the benefit of design frame expert, Lisa, to assist with selecting color and genre of frames which best suits the theme of the piece.
The Stitchery also assists with other kinds of finishing, including pillows, tote bags and Tallit bags.
In the alternate, The Stitchery carries pre-assembled kits so that finishing and yarn selection are not needed.  Kits include purses, eyeglass cases, IPAD covers, coupon and checkbook holders.
The Stitchery offers the highly specialized service of having a favorite photo recreated by our artists onto needlepoint canvas.  These needlepoints are a unique and special gift.  Some of our customers have brought in pictures of favorite vacation scenes, pets, special sayings and other memorable images that were transformed into needlepoint projects. Find something special? Bring it in and watch what happens.
The Stitchery is conveniently located in Jamesburg, Middlesex County, New Jersey.  We are easily accessible from neighboring communities.  Parking is never an issue.
The Stitchery also offers at-home parties.  We also organize showcases at various venues.  Both are wonderful fundraisers.